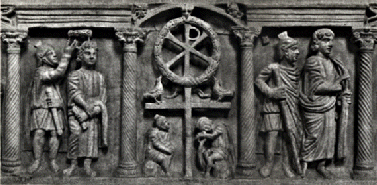 English 116B: The Literature of the New Testament
Winter quarter, 1999
The University of California, Santa Barbara
Instructors: Professor Michael O'Connell; section leaders, Kate Koppelman, Randy Schiff
---
The above image is the center of an ancient sarcophagus and portrays the resurrected Christ through the Chi Rho symbol, the first two letters of Christos in Greek.
---
This web page is for use of our class this quarter. You are invited to use it, to suggest contributions for it, and to help develop it. Contributions can include links to research sites on New Testament Literature, image files for backgrounds, images, and image button-links, and any other ideas you may have.

Also, make sure you're on the class list-serve so that you can participate in the ongoing discussions and receive important announcements. Contact Professor O'Connell if you have not been receiving e-mail for the class.
---
Course materials
Research links
Student contributions
---
Last revised 6 January, 1999.